Wrestling Mayhem Show 635: Total Taker
Episode 2709
·
September 19th, 2018
·
1 hr 27 mins
This week's episode brought to you by Indy Wrestling US, Slice on Broadway, Occupy Pro Wrestling, and THRIFTY Podcast!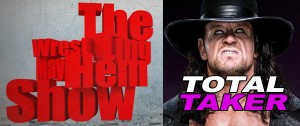 Toddy from Thrifty Podcast returns along with Larry and Mad Mike!
Toddy has gifts in Thrifty Fashion with masks and the classic WWF VCR game!
We reintegrate Larry into pro wrestling after a several month hiatus with 2 Truths and a Lie!
We look at the first announcements for WWE Crown Jewel in Saudi Arabia
This week's Big Question: Where do want to see the next giant international WWE show?
We talk about the Lucha Fiesta Pittsburgh show from right across the street from the studio!  Look for it on Fite.tv soon!
What did YOU learn from wrestling this week?
Follow our stable on Twitter: Toddy Tondera (@ThriftyPodcast), Larry (@MutilatorLarry), Mad Mike (@MadMike4883), and Sorg (@Sorgatron).